Kos Island International Airport (IATA: KGS, ICAO: LGKO), or Κρατικός Αερολιμένας Κω, Ιπποκράτης in Greek, is an airport serving the island of Kos, Greece.Location of kos airport


The airport is located 26km (16 miles) to the west of the town of Kos.Car Parking
The car park has parking spaces for 100 cars and 80 buses.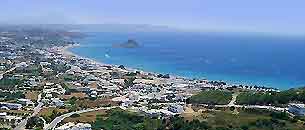 Public Transport
Road: Bus: KTEL local buses go to the town of Kos and to Kardhamena, Kefalos and Mastihari from the bus stop just outside the airport. Olympic Airways shuttle buses correspond with arriving and departing flights.
Taxi: Taxis are available outside the terminal buildings. It is recommended to agree the price before the taxi journey. Information and Help Desks

An information desk is available in the terminal building.Airport Facilities




Money and communications: There are no banking or postal facilities at the airport.
Eating and drinking: There is a café selling hot and cold drinks and small dishes and snacks in the terminal building.

Shopping: Duty-free shopping is available in the terminal building.
Luggage: Queries about lost items of luggage should be directed to the information desk or to the airline concerned.
Other facilities: There is a medical centre at the airport. A police station is also located there.Conference and Business Facilities

There are no conference or business facilities at the airport.Facilities for Disabled Travellers
Facilities are basic. Those who need assistance at the airport should contact their airline before travel. There are no hotels at the airport.